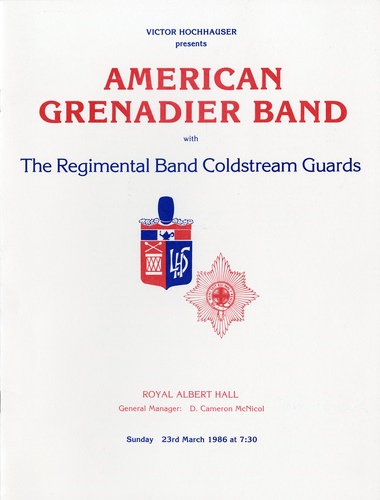 How does a 16-year-old American student/musician from the little town of Bethlehem - in Pennsylvania, USA that is - end up performing in RAH? 
Well, it is really quite simple - at age 9 you learn to play saxophone, later you go to high school, join the band - the Liberty High School Grenadier Band, in this case - study hand and practice even harder, collectively sell and make 90,000 hoagies (think Subway Sub) and through the dedication of students, teachers and parents alike a trip of a lifetime occurs.  You get your first passport, fly across the pond, move into the residence halls at King's College for a week.  Parade down The Stand, play a stand-up performance in Trafalgar Square and then you meet a group of incredibly talented military musicians (aka The Regimental Band of the Coldstream Guards).  Sure, there is some light hearted banter - in jest of course since we are actually just a gang of bloody colonist defectors. We are, after all, simply American teenagers who think they deserve to perform side-by-side with these well-trained soldier/musicians on the stage of THE World-Famous Royal Albert Hall.  But then we play an American version of Rule, Britannia! and the bonds of music unites us.  Next, the thunderous pipe organ shakes the seats in which we sit and for one glorious night - in THIS magnificent hall - we perform a concert we will never forget - but won't fully appreciate until years well lived provides us the understanding of the "awesomeness" (dated American pop/slang term) of the moment.  That night was not just saved in our minds but memorialized in an album (yes. vinyl - it was 1986 after all) and a VHS recording (again 1986 but now on YouTube).  This teenage dream was real - for on this ONE NIGHT ONLY in the now 150-year history of this grand dame of a concert hall - I was the star - I was The Star of Bethlehem - it really was ME under the bright lights of Royal Albert Hall.  Well, me and 260 other American teens and 54 members of this elite British Army band.  The shared motto of both bands - "Nulli Secundus - Second to None" truly defines this moment in time.
20-ish years later on vacation/holiday in London I find myself this time in the audience of RAH enjoying the spectacle that is Cirque du Soleil - and I can't help but remember that day in 1986 when it was me up there performing - WOW!!!  Later, we take the backstage tour of the hall and more memories flood back as the friendliest tour guide schools us on the aluminium "umbrellas" way up high in the ceiling - "that's aluminum for the yanks" she remarks and, in that moment, - a sentimental tear transforms into a tear of laughter and now yet another #RAH150 memory.
Support the Royal Albert Hall
Please support the Royal Albert Hall during the coronavirus crisis. Donate online, or text 70490 with the following:
10ALBERT to donate £10
20ALBERT to donate £20