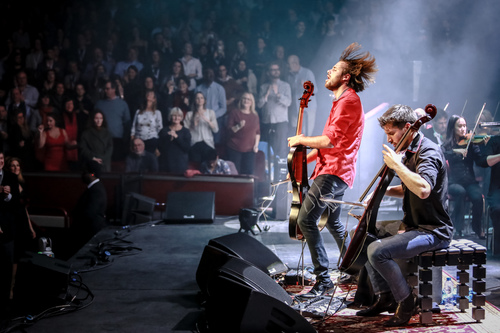 The 2 Cellos concert in November last year was an absolute gem and one I will never forget. I had booked 2 tickets for my husband and I but the week before he was unable to attend with me and I was forced to look for an alternative partner.
I rang my daughter who was less than enthusiastic but the offer of a free meal and a ride home was tempting enough to persuade her to come with me. Whilst nibbling through another slice of pizza in the restaurant she casually stated we could always leave at half time if the concert was boring and dry.
Approximately 3 minutes into the opening number she shuffled into her seat, back upright and ears twitching.  She was hooked and so was I and we shuffled and strained our necks to get a tiny bit closer every time one performance ended and before another one started.  
All the way home we kept saying how much we enjoyed the concert and that her father would be so annoyed he had missed it. I have looked throughout the year to see if they are planning a return to the Royal Albert Hall but sadly to date only other venues are available which are unlikely to provide the same intimate and inclusive feeling.  Never mind I will keep looking and hope they will want to return at some stage in the near future. This was by far a truly magical night.
Support the Royal Albert Hall
Please support the Royal Albert Hall during the coronavirus crisis. Donate online, or text 70490 with the following:
10ALBERT to donate £10
20ALBERT to donate £20