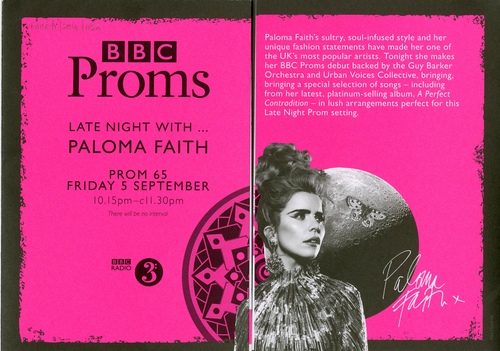 The dizzying heights
5 September 2014 - 22:15
First visit
Being a music fan all of my life and having attend numerous concerts, recitals and performances in the UK, Europe and America I realised at the ripe old age of 52 that I had never been to the Royal Albert Hall and as soon as I saw one of my then favourite performers, Paloma Faith, was to appear I thought 'why not?' and after seuccessfuly obtaining a Rausing Circle ticket for the performance, I booked my travel and hotel for the day.
On the day after checking into my hotel I headed off with trepidation to the Royal Albert Hall and after wandering around the outside I entered the Hall and made my way to my seat.
As I climbed the stairs my trepidation was tinged with nervousness as I began to realise that my seat would be failry high up ,but no matter, my seat was not on the front row so I should be fine.
I was right that my seat was not on the front row it was on the back row of the Rausing Circle so I should be okay but as I sat down in my seat and faced the stage I realised my seat was on the aisle and there were no seats in front of me just the aisle with a "spectacular" view straight down in to the arena. This, for most people, would have been a good seat/view but as you may have gathered I am afraid of heights.
After about 10 minutes I realised that with my anxiety levels going through the roof (appropriate as I wasn't far from the roof) that I would not enjoy the concert and as I had seen Paloma Faith in Manchester I decided to make my exit albeit very gingerly.
As I left the Hall, the usher on the door mentioned that the performance was about to start so I explained to him why I was leaving at which point he asked me to wait for a few minutes whilst he went to check something. He soon came back and asked me to follow him as he had found me a more suitable seat which was at the end of the Loggia boxes next to the stage. I was eternally grateful and after having calmed down just in time for the performance start I had the most spectacular time, all thanks to the quick thinking and kindness of the door usher. Unfortunately I can't recall his name but he is a credit to the Royal Albert Hall and made my night. Thanks to him and the performance I have returned regularly to the Proms each year since, attending as many peformances as I can.
Support the Royal Albert Hall
Please support the Royal Albert Hall during the coronavirus crisis. Donate online, or text 70490 with the following:
10ALBERT to donate £10
20ALBERT to donate £20