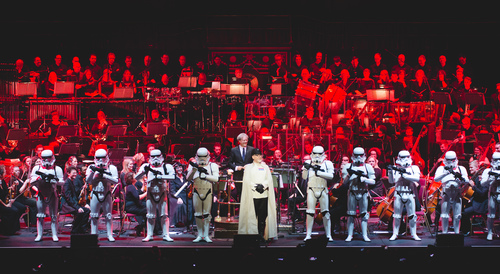 A lovely early Christmas Present from my wife
20 October 2017 - 19:30
First visit
My first visit to the Royal Albert Hall was also my first chance (I hope it won't be my last) to see my favourite film and television composer Michael Giacchino. I first noticed Michael's work whilst watching Lost and have then followed him since. I had seen that he had done some Lost Concerts in Hawaii but as someone who doesn't particularly enjoy travelling on planes and boats, I thought I would probably never get to see him live. So when I saw he was going to be performing at The Royal Albert Hall I knew I had to go, and the fact that it was at a venue I had always wanted to go to, that was a lovely bonus. My wife very kindly bought us two tickets for an early Christmas present for me. As soon as we finished work on the Friday, my wife and I jumped in my car and drove from Coventry to London (through crazy London traffic).
The concert was everything I hoped it would be and more. Lovely venue, amazing music, amazing guests (JJ Abrahms, Carlton Cuse, Gareth Edwards, Benedcit Wong, Matt Reeves, Brad Bird, Gonzo!  and more). I would love to see Michael live again, but if I don't, then I will always be happy with this amazing night.
Then, afterwards, we jumped back in the car and drove back to Coventry.
What a night!
Support the Royal Albert Hall
Please support the Royal Albert Hall during the coronavirus crisis. Donate online, or text 70490 with the following:
10ALBERT to donate £10
20ALBERT to donate £20