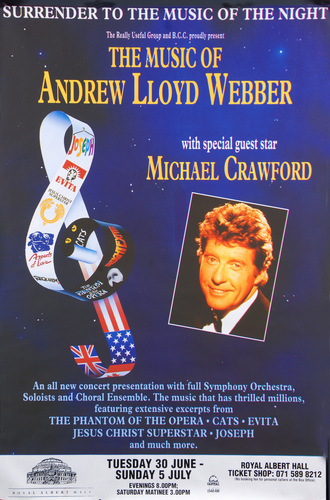 My friend Jill and myself were (and still are) big fans of Andrew Lloyd Webber, and in particular Phantom of the Opera. When I heard about this show, I knew we just had to buy tickets and managed to get seats in the arena about 6-7 rows from the stage. What a fantastic night! And when Michael Crawford came on and sang, we were just a little emotional - we sprang to our feet at the end and cheered calling for an encore like two teenagers. The man next to us said - "you go girls, if anyone can get him back on stage, you can!". Well obviously he did come back for an encore (just for us of course!).
Afterwards we waited at the stage door to see him leave for what seemed like hours, but yes, we managed to each out and touch him as he rushed into his waiting car.
I have enjoyed many, many evenings at the Albert Hall, such a magnificent building and the accoustics are second to none, from prom concerts to Cirque Du Soleil. But that concert will stay in my memory forever.
Support the Royal Albert Hall
Please support the Royal Albert Hall during the coronavirus crisis. Donate online, or text 70490 with the following:
10ALBERT to donate £10
20ALBERT to donate £20