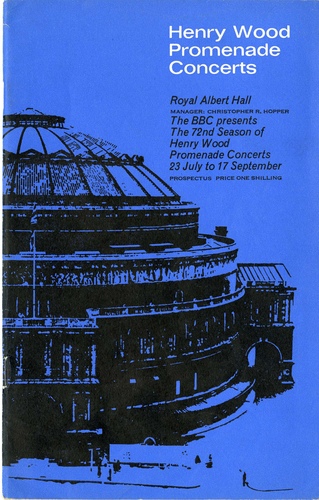 In 1966 I was 17 years old. I had been listening to popular music on the radio since I learnt how to turn it on. For Christmas 1965 my mother had bought me a small record player. I did not have much money to buy records so I headed to the local library. Fortunately, they had a good selection of popular music on vinyl records so I started to borrow albums by groups and artists who were popular at that time. I soon discovered they had records of blues, jazz and by classical composers. One of the librarians suggested I try some classical music and suggested music composed by Greig and Beethoven. I went home with Peer Gynt and Beethoven's Symphony No 5.
One of my friends while browsing through the few records I had saw the copy of Beethoven and said that he was going to a Promenade Concert at the Albert Hall to listen to Beethoven's Piano Concerto No 2, he was a talented pianist. He said that on the same Concert was Beethoven's Symphony No 5. I jumped at the chance to go and see an orchestra play a piece I had played the recording of over and over again. So, on Thursday 28 July 1966 my mate and I caught a number 49 bus from The Northcote, Clapham Junction, crossed the River Thames and made our way to the Albert Hall. I had never been to a concert hall before. We were able to get in for a small price and went upstairs to the balcony. The stage was set out with chairs and music stands and as we arrived the musicians began to take their places. It was like nothing I had ever seen.
I waited for the music to begin with anticipation.  I just stood in a trance listening to the sounds and thrilled to the sensations never before experienced. When it came to the Symphony No 5, I entered another realm of existence. When the piece ended, I wanted to start from the beginning again but alas I was listening to a live orchestra not a recording. I sat for some time just reliving the experience. My mate wandered off to get a drink while I remained. There was movement on stage as the stage hands were taking away most of the chairs and music stands. Then they started to push these large pieces of equipment onto the stage. I realised they were enormous tape machines. I waited with curiosity. I had no idea what was to happen next. Musicians started to arrive and take their seats and I noticed that the audience had nearly all gone and there were very few people left. The musicians began to play. I entered into a world so different from Beethoven. A jumble of sounds challenging the mind and the ears to believe what they were experiencing. My introduction to the work of Varese, as with Beethoven, was to last a lifetime.
From this concert I went on to explore the work of classical composers, electronic music, ambient music and the whole range of musical styles that I have been fortunate to have been exposed to in my life. I have always seen this Prom concert as the foundation of my life's musical voyage. I have been fortunate to have returned to the Albert Hall on numerous occasions. I am personally able to celebrate nearly 60 years of the 150 years of the life of the Albert Hall. Thank you, Albert Hall.
Support the Royal Albert Hall
Please support the Royal Albert Hall during the coronavirus crisis. Donate online, or text 70490 with the following:
10ALBERT to donate £10
20ALBERT to donate £20